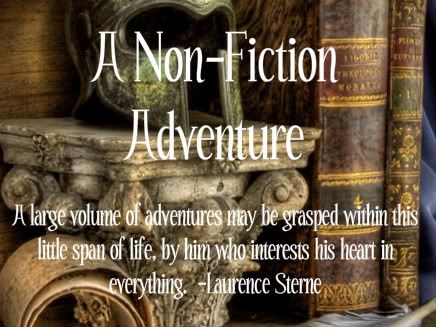 This challenge is hosted by me. Visit the dedicated blog
HERE
to sign up.
Taking the lead from the awesome creators of the
Fill in the Gaps: 100 Project
and
The Classics Club
, I have decided to create a similar challenge focusing on non-fiction books. The fruition of this idea came to me yesterday as I was looking at my shelves of non-fiction books. In my library of 3000+ books, non-fiction makes up about 1000+ of that total. I focus so heavily on fiction I never take the time to squeeze in some non-fiction reads which I do love to read. So I thought, why not follow the lead of those I mentioned above and create this challenge for the non-fiction genre.
Here are the guidelines:
choose 50+ non-fiction books; the number is up to you. Choose 50, 75, 100, 200. It's entirely your choice
Books must be non-fiction--biography, autobiography, history, memoir, cooking, travel, science, etc.
list them at your blog (or on Goodreads or another social media site, if you do not have a blog)
choose your completion goal date five years in the future and make note of it with your list of titles (like this: reading goal--50 books goal dates--March 20, 2012 - March 20, 2017)
come back here and post the link to your list in the linky below
write a review (or a short summary) on the book when finished and link it to the title in your list (or link to your review on Goodreads, again, if you don't have a blog)
there will be pages posted at the top of the blog for you to link your reviews
when you have completed the challenge, come add your link to the Completed Challenges page
there will be a blog roll in the sidebar where I will list you/your blog linked to your lists
grab the button in the right sidebar and link it back to this blog
check out this PAGE which contains links to various online sources with lists of reading ideas
I might host a read-a-long from time to time. If you are hosting one, or an event or challenge surrounding a non-fiction title, post about it at this PAGE
A couple more important details:
this challenge can be crossed over with any other challenges
your link in the linky below must lead to your list, not just your main blog address. Any links that are blog links only will be deleted
Updates
:
*I was asked if the list has to be made in advance. The idea is to work toward reading non-fiction that you've been wanting to read so the list is mandatory. However, the list does not have to be set in stone. You can change out titles as the mood suits you.
I hope I haven't forgotten anything. If you think I missed something, please let me know. I'm aiming to make this challenge as low maintenance as possible. There will be no mini-challenges or prizes. This challenge is all about challenging ourselves to read more and to expand our horizons. I truly hope you will join me on this adventure.
If you're interested in reading the classics or filling in the gaps in your regular reading, why not check out the two challenges I mentioned above. I'm participating in both and they are both great concepts in challenges.
My list:
Okay, so my original plan was to make a list of 50 to read over the 5 years, but...well, you know...once I started listing, I was like a kid in a candy store. ;O) My intent:
Revised list below. New additions marked with an *
Read the 97 Non-Fiction books listed
Time frame: April 2, 2012 - April 2, 2017 January 3, 2016 - January 3, 2026
The List
Categorized, but in no particular order. As in the Classics Club, I own every book on this list.
Biography/Memoir
1.
Art and Madness: A Memoir of Lust without Reason
by Anne Roiphe
2.
David Bowie: Starman
by Paul Trynka
3.
Benjamin Franklin
by Edmund S. Morgan
4.
Catherine the Great
by Robert K. Massie
5.
John Adams
by David McCullough
6.
King Arthur
by Norma Lorre Goodrich
7.
Louisa May Alcott: The Woman Behind Little Women by Harriet Riesen
Read 2015 - not reviewed
8.
Lucrezia Borgia
by Sarah Bradford
Alison Weir
9.
Mary Boleyn: The Mistress of Kings
(Weir)
10.
Queen Isabella
(Weir)
11.
The Princes in the Tower
(Weir)
12.
Marie Antoinette
by Evelyne Lever
13.
Poe: A Life Cut Short
by Peter Ackroyd
15.
Vincent Price
by Victoria Price
16.
Eleanor of Aquitaine: A Biography
by Marion Meade
17.
Will in the World
by Stephen Greenblatt
18.
The Brothers Grimm: Two Lives, One Legacy by Donald R. Hettinga
Read 2015 - not reviewed
19.
Georgiana: Duchess of Devonshire
by Amanda Foreman
20.
The Girl Who Walked Home Alone: Bette Davis-A Personal Biography
by Charlotte Chandler
21.
Into the Wild
by Jon Krakauer
22.
A Rip in Heaven: A Memoir of Murder and Its Aftermath
by Jeanine Cummins
23.
Madame de Pompadour
by Nancy Mitford*
24.
Tolstoy and the Purple Chair
by Nina Sankovitch*
25.
Twelve Years a Slave
by Solomon Northup*
26.
All Roads Lead to Austen: A Yearlong Journey with Jane
by Amy Elizabeth Smith*
27.
Jane's Fame: How Jane Austen Conquered the World
by Claire Harman*
28.
The Opposite of Fate: Memories of a Writing Life
by Amy Tan*
29.
Unbroken: A World War II Story of Survival, Resilience, and Redemption
by Laura Hillenbrand*

Customs/Folklore/Mythology
30.
Sagas of Icelanders
31.
In Search of Dracula: History of Dracula and Vampires
by Raymond T. McNally and Radu Florescu
32.
Mythology
by Edith Hamilton*
History
33.
Bury My Heart at Wounded Knee
by Dee Brown
34.
The Burning of Bridget Cleary
by Angela Bourke
35.
Thunderstruck
by Erik Larson
36.
In the Footsteps of Alexander
by Michael Wood
37.
The Monster of Florence
by Douglas Preston
38.
The Murder of Helen Jewitt
by Patricia Cline Cohen
39.
The Professor and the Madman
by Simon Winchester
40.
The Queen's Necklace
by Frances Mossiker
41.
Starvation Heights by Gregg Olsen
Read 2015 - not reviewed
42.
She-Wolves
by Helen Castor
43.
The Vikings
by Robert Ferguson
44.
The Life and Death of a Druid Prince
by Anne Ross and Don Robins
45.
Mayflower
by Nathaniel Philbrick
46.
The Gangs of New York
by Herbert Asbury
47.
Royal Panoply: Brief Lives of the English Monarchs
by Carolly Erickson
48.
The Ancient Celts
by Barry Cunliffe
49.
Chronicle of the Roman Republic
by Philip Matyszak
50.
Chronicle of the Pharaohs
by Peter A. Clayton
51.
Imagining Atlantis
by Richard Ellis
52.
Finding Atlantis: A True Story of Genius, Madness, and an Extraordinary Quest for a Lost World
by David King
53.
The Vanished Library: A Wonder of the Ancient World
by Luciano Canfora
54.
The Year 1000: What Life Was Like at the Turn of the First Millennium
by Robert Lacey and Danny Danziger
55.
How the Irish Saved Civilization
by Thomas Cahill
56.
Fingerprints of the Gods
by Graham Hancock
57.
The Enemy Within: 2000 Years of Witch Hunting in the Western World
by John Demos
58.
The Salem Witch Trials: A Day by Day Chronicle of a Community Under Siege
by Marilynne K. Roach
59.
The Great Mortality: An Intimate History of the Black Death, the Most Devastating Plague of All Time
by John Kelly*
60.
The Lost City of Z: A Tale of Deadly Obsession in the Amazon
by David Grann*
61.
The Histories
by Herodotus*
62.
Frozen in Time: An Epic Story of Survival and a Modern Quest for Lost Heroes of World War II
by Mitchell Zuckoff*
63.
Lost in Shangri-la: A True Story of Survival, Adventure, and the Most Incredible Rescue Mission of World War II
by Mitchell Zuckoff*
64.
In the Heart of the Sea: The Tragedy of the Whaleship Essex
by Nathaniel Philbrick*
Parapsychology/Occultism
65.
A History of Ghosts
by Peter Ackroyd
66.
Piercing the Darkness
by Katherine Ramsland
67.
Don't Kiss Them Goodbye
by Alison DuBois
Philosophy
George Wilhelm Friedrich Hegel
Lectures on the History of Philosophy
68.
Greek Philosophy to Plato
(Hegel)
69.
Plato and the Platonists
(Hegel)
70.
Medieval and Modern Philosophy
(Hegel)
71.
Meditations
by Marcus Aurelius
72.
Writings
by Thomas Jefferson
Religion
73.
Walking the Bible
by Bruce Feiler
74.
The Bible is History
by Ian Wilson
75.
Mere Christianity
by C.S. Lewis
76.
Holy Blood, Holy Grail
by Michael Baigent, Richard Leigh, and Harry Lincoln
77.
Cracking the Bible Code
by Jeffrey Satinover
78.
The Complete Dead Sea Scrolls in English
by Geza Vermes
79.
Hostage to the Devil: The Possession and Exorcism of Five Contemporary Americans
by Malachi Martin
80.
Rescuing the Bible from Fundamentalism: A Bishop Rethinks the Meaning of Scripture
by John Shelby Spong*
81.
Jesus for the Non-Religious
by John Shelby Spong*
Science
82.
Blood Work: A Tale of Medicine and Murder
by Holly Tucker
83.
Gods, Graves, and Scholars: The Story of Archaeology
by C.W. Ceram
84.
The Future of Life
by Edward O. Wilson
85.
The Illustrated Origin of Species
by Charles Darwin--Abridged and Introduced by Richard E. Leakey (will read in conjunction with the original Origin of Species)
86.
Only a Theory: Evolution and the Battle for America's Soul
by Kenneth R. Miller
87.
The Lost Tomb
by Kent R. Weeks, Ph.D.
88.
The Ancestor's Tale
by Richard Dawkins
89.
Neanderthal: Neanderthal Man and the Story of Human Origins
by Paul Jordan
90.
Dinosaur Hunters: Eccentric Amateurs and Obsessed Professionals
by David A.E. Spalding
Travel/Geography
91.
Venice: Pure City
by Peter Ackroyd
Women's Studies
92.
A Vindication of the Rights of Woman
by Mary Wollstonecraft
93.
A Room of One's Own
by Virginia Woolf
94.
Women Who Run with the Wolves: Myths and Stories of the Wild Woman Archetype
by Clarissa Pinkola Estes
Miscellaneous
95.
The Joy of Books
by Eric Burns
96.
Wild Mind
by Natalie Goldberg
97.
History of American Literature
by Reuben Post Halleck, MA (my edition was printed in 1911! It's a wonderful old book.)
Alternates (to be determined)
98.
99.
100.
101.
102.